News & Social Events
NEWS
Please note that the post of Senior Practitioner with dDeaf and Hard of Hearing people (Children & Adults) no longer exists. Please go to our LINKS page for contact information of Government Departments.
************************************
CHRISTMAS LUNCH 2018
Was held at the Old Courthouse in St Aubin. All of those who attended had a lovely time enjoying good food and company. Many thanks goes to all of those who made the day such an enjoyable one.
We wish everyone a Happy Christmas and Best Wishes for 2019
******************************************************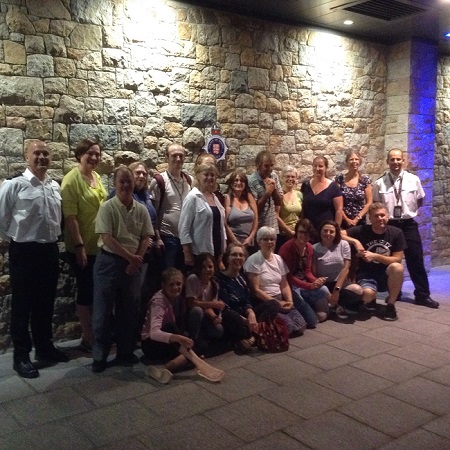 Police Station Visit
On the 1st of August dDeaf residents were invited to the new Police Station to discuss a way forward to improve how the emergency contact arrangements could be improved for dDeaf people. The group included people of all ages, from children to adults and included cochlear implant users, hearing aid users and as well as those with a dual sensory loss. Several ideas were discussed and the evening was very informative for both the parties, with everyone learning a lot more about each others needs and requirements. After a presentation the group were treated to a guided tour of the new Police Station which was very interesting and gave those attending a much better idea of how the Station works and the up to date facilities it has. Many thanks goes to the Community Policing Team for their hospitality and support.
*******************************
BSL Access to Politics
For the first time in Jersey, Politics is accessible to our dDeaf community. The Senator Hustings on the 14th May 2018 had a BSL Interpreter, who was part funded by the States of Jersey and the Jersey dDeaf Society. The Interpreter came from the U.K. and provided British Sign Language interpretation of the questions and discussions throughout the meeting.
This was a big step forward for the dDeaf community and it is hoped in the future more public meetings will be accessible to our community.
************************************
Deaf Club
Where? The Jersey Arts Centre, Philips Street, St Helier
When? First Wednesday of each month (except January)
Time? 7.30pm to 9.00pm.
The JdDS do not run this Club but do support the organiser.
All welcome, it is a very relaxed evening and you can come along for a chat and practice your communication skills.
You can find up to date information on their Facebook Page Jersey Deaf Club
♣♣♣♣♣♣♣♣♣
Latest News